QUALITY MANAGEMENT
OF YOUR CANINE ATHLETE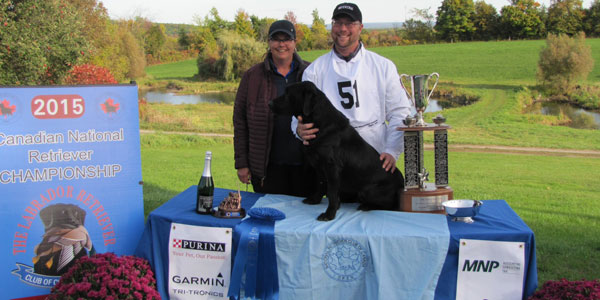 Colin has been involved in training field trial retrievers since he was old enough to throw a bird. In 1990 he started training his own dogs and had a very successful Amateur career. He is the youngest handler to ever finish the CDN National Amateur Retriever Championship. He also trained and campaigned the High Point Amateur All Age Retriever in Canada in 1998 who was also the High Point Open Male. Colin had qualified several dogs for Nationals and competed at the National level by the time he was barely out of his teens.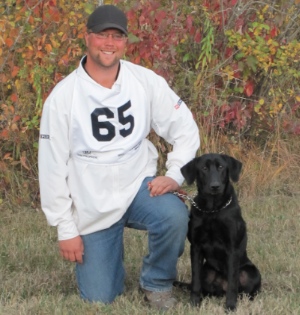 In 2001 Colin turned Professional and in 2003 he established Windy River Retrievers.
Carey Petersen became a part of Colin's life in 2007. She brought Golden Retrievers into his life. She had done all of the basics training on her own golden that Colin was then able to title. Carey is involved in all aspects of Windy River Retrievers from running the business to taking care of the dogs. She is also involved in the training of the dogs as well.
Colin's lifelong dream became a reality when he won the Canadian National Open Retriever Championship in 2011. Colin credits Carey as being a big part of making this happen. In 2012 Colin followed this up by winning 7 out of 14 CDN Open starts for a 50% win percentage and he also placed in all 14 Opens for a 100% placing percentage. In his last 6 open starts he took 12 out of a possible 24 placings. In Sept 2012 Colin finished the CDN National Open for the third year in a row.
Colin won the CDN National Open again in 2015. He is one of only two Canadians to win the National twice with two different dogs, and one of four Canadians to win it twice since its inception in 1950. The 2016 Canadian National was Colin's sixth year in a row being a Finalist. NFTCH FTCH Battle River Perro was the first dog in 10 years to be a Finalist the year after he Won.
2015 was a career year for Colin. In addition to Winning the National Open he had the #1, #2 & #5 Open Dogs in Canada. CNFC CFC Perro, CFC Lou & CFC Lucy combined for 70 Open points including 9 wins. Colin won 9 out of 20 CDN Open starts which was nearly a 50% yearly win percentage for the second time.
In 2016 Windy River Retrievers was the Top Retriever Results Open All Age Kennel in Canada for the third time, as well as the Top Junior Kennel. Carey handled Autumn to the High Point Junior Female, #2 Overall, High Point Junior Golden Retriever, and High Point US Derby Golden Female for points accumulated in 2016.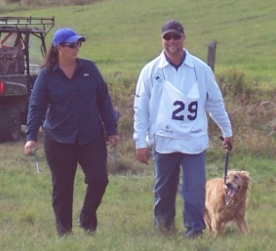 Colin's passion and enthusiasm for training and handling retrievers is second to none. He has dedicated his life to his craft and has a unique ability to build young dogs into successful competitors and solve problems with older dogs that come into training with him.
We train from approximately May 1 to October 31 in Western Canada and from approximately November 1 to April 30 in the Cheraw, SC USA area. This offers an awesome variety of training grounds all across North America. Together Colin and Carey offer a fantastic team to join at Windy River Retrievers.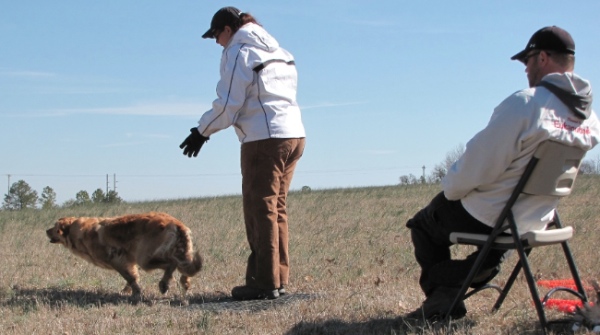 Below is a list of Champions and notable dogs that Colin has been involved in the training of:


2015 CNFC CFC Battle River Perro (CNFC at 5.3 yrs, Qualified for 2015 US National Open, CDN Nat'l Open Finalist 2016)
2011 CNFC CFC FC Road Warriors Lady Hawk (Qualified US National Open)
CFC Runnin's Lady Known As Lou (CDN Nat'l Open Finalist 2015, CDN High Point Open Dog & High Point Combined Dog 2015, CDN High Point Open Female 2016, 2015, 2014, 2013, CDN #2 Open Dog 2016, 19 Career Open Wins & 125 Open Points)
CFC Riveroak Turn Me Loose (CDN National Open Finalist 2014, 2012 & 2010, CDN #2 Open Dog 2015, CDN High Point Open Female 2012, 127 Career Open Points)
CFC Glenelm's Glowing Ember (CDN High Point Open Golden Female 2016, 2015 [tied],2012 & 2009)
Jiggy Down With It (Youngest dog to qualify for and compete in the 2012 CDN National Open, went 7 series at 28 mths of age)
Diamond Brook's Mack (Won second Open start and placed in third start at 4 yrs)
CFC Riveroak Vapour Trail
CFC Diamond Brook's VL Earl (3X's on CDN Top 10 Open Dog List 2010, 2007, 2006)
CFC CAFC Delta Marsh Dixie Chick
CFC Pekisko's Triple Threat (CDN National Open Finalist 2006, titled at 3 yrs)
CFC CAFC RDC's Jazztime Trip's Ink Spot (CDN National Amateur Finalist 2012 & 2011)
CFC CAFC Call Me June's Pretty Penny
CFC CAFC Blackwatch Thundrwing Gunner (Open Win at 3 yrs)
CFC CAFC Grousebuster's No Fear No Mercy (Amateur Win at 3 yrs)
CFC CAFC Bluegoose's Huckleberry Hustle
FC AFC CFC CAFC Jazztime Trip's Matte Finish
FC Elmingo's Chasing A Whim
CFC CAFC Coldcreek's Kayla to Go (Produced 2008 CNFC, 2004 CNFC, 2002 CNAFC)
CFC CAFC Prairiemarsh Duckman
CFC CAFC Stoneoak's Limited Edition
CFC Blackhawk's Max
CFC CAFC Wintoba's Rocket Nitro Cruise
CFC CAFC Legal Black Blitz II (CDN National Amateur Finalist 1997, CDN High Point Amateur All Age Dog & Open Male 1998)
Riveroak Miss Elly (CDN National Open Finalist 1996)